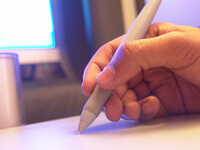 It is almost a year since Microsoft launched Window 10 – which means there is only a month left to upgrade to it for free, after which there will be a fee of £89. It also means that it is time for enhancements, generally to Cortana and the web browser, Edge – as well as an attempt to reinvent the stylus.
Head of Windows, Yusuf Mehdi, said that more than 350 million devices were now being powered by Windows 10. The operating system is generally regarded as a welcome return to form for the company that still powers the vast majority of the world's desktop and laptop computers. Micosoft will be debuting the wonders of Microsoft Ink on their Anniversary Update. 'In this release you're going to see the pen become a first class method of input,' promised Mr Mehdi, explaining how the pen, a stylus, could now be used to scribble notes quickly on to the screen.
Like Cortana, much of Window Ink's appeal will be that you don't need to unlock the device in order to use it. You just click the pen and begin writing on the screen.
More uses for Windows Hello are also likely to be included in the update.
www.bbc.co.uk/news-tech (29th June 2016)