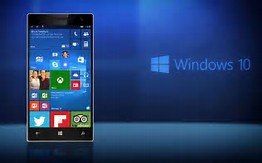 Microsoft appears to have abandoned its smartphone operating system ambitions after Joe Belfiore (chief of the company's Windows 10) sent a tweet stating that developing new features and hardware for the Mobile version of the OS was no longer a focus. He also added that he had also switched to Android himself.
Mr Belfiore said that Microsoft would support the many companies that had adopted the platform in terms of bug fixes, security updates, etc.
Windows 10 Mobile tried to attract users by letting them run the same 'universal apps' on both their PCs and handsets, but the concept failed to catch on. It has been reported that there wasn't a wide range of devices running Windows 10 Mobile thus making it unattractive to retailers or operators. Consumers had reported that the operating system didn't provide as good an experience as Android or iOS.
Mr Belfiore posted Microsoft had tried "very hard" to incentivise other companies to release universal apps – even writing their software for them in some cases – but the number of users had been too low for most to bother.
bbc.co.uk/technews (10th October 2017)