Hardware & Software
ADECS-Maple offers a wide range of hardware & software solutions to suit any business, from anti virus and spam filtering, CRM systems to desktops, laptops and hardware firewalls.
ADECS-Maple are partners with Lenovo, HP and Dell along with the country's leading distributors meaning that we can source, configure and install any required hardware at a competitive price.  If you are unsure as to your requirements, our sales team can provide you with a number of options to suit both your technical requirements and budget with the majority of items available on next business day delivery.
Looking to keep your existing hardware but ensure that you are getting the most out of it?  ADECS-Maple can help with a RAM or hard drive upgrade that can often be a low cost alternative to a new machine.  Replacing that old spinning disk with a new solid state drive can really get your PC or laptop flying!
Tablets and mobile devices are taking the world by storm but which one is the best match for your needs as all have their particular strengths and weaknesses.  Let ADECS-Maple understand your needs and source the most appropriate technology to get you mobile and help your business respond to the rapidly evolving world of business mobility.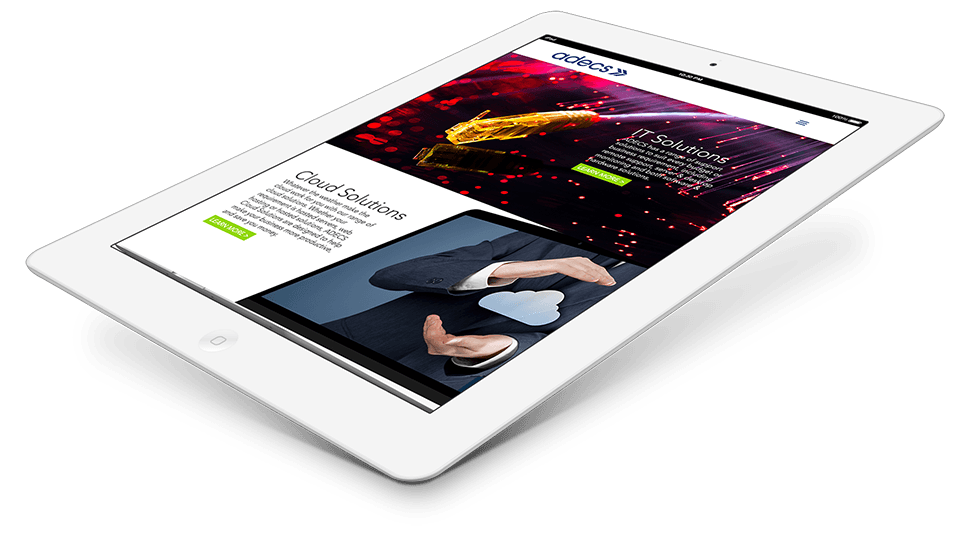 Anti Virus
Symantec ESxP solutions
Symantec offers superior anti-malware protection for PCs, Macs, and servers – Detected 25% more threats than any other vendor tested; and removes more malware and scans faster than any product in its class.
ADECS-Maple is a Symantec ESxP solutions provider. This means that we can offer the full range of Symantec services as a managed model. This has two distinct advantages for the end user:
A rolling monthly contract with no tie-ins, charged on a per user basis, giving clients more control of their security costs and providing a very flexible model.
The performance of your server will not be impacted as we can host the management console for you FREE-OF-CHARGE on our secure cloud security server.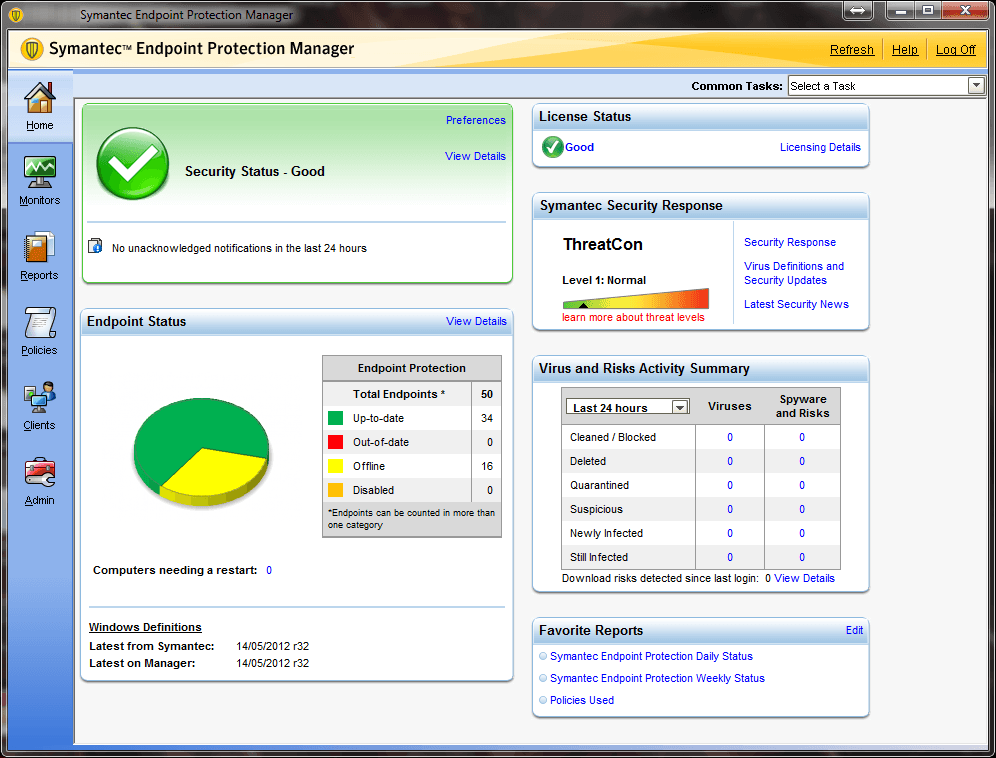 Powered by Insight, Endpoint Protection is the fastest, most powerful endpoint antivirus software solution you can buy for both virtual and physical systems. Endpoint Protection provides state-of-the-art defense against all types of attacks and seamlessly integrates the essential antivirus security tools you need into a single, high performance agent with a single management console. Endpoint Protection provides leading antivirus protection without slowing you down.
Key Features
Unrivaled security. Blazing performance. Built for Virtual Environments
State-of-the-art antivirus software from the world leader in security
Built to secure your virtual infrastructure
Integrated antivirus, antispyware, firewall, and intrusion prevention as well as device control and application control
Requires only a single agent
Powerful central management of security for physical and virtual Windows and Mac endpoints
Enables instant upgrade to self-enforced network access control without additional software deployment
Antispyware and antivirus programs for Windows, Mac and Linux clients
Seamless migration from previous versions of Symantec Endpoint Protection
Key Benefits
Stops malware such as viruses, worms, Trojans, spyware, adware, bots, zero-day threats and rootkits
Prevents security outbreaks thus reducing administrative overhead
Powerful antivirus protection of both physical and virtual environments
Lowers total cost of ownership for endpoint security
Spam Filtering
Symantec Mail Security for MS Exchange
Symantec Mail Security for Microsoft Exchange combines Symantec AntiVirus with advanced heuristics to provide real-time email protection against viruses, spyware, phishing, and other malicious attacks while enforcing content filtering policies on a Microsoft Exchange Server. In addition, Mail Security leverages Symantec Premium AntiSpam, powered by Brightmail technology, to stop 99 percent of incoming spam with less than 1 in 1 million false positives. It supports Hosted, Microsoft Hyper-V, or VMWare® virtualized Exchange server environments. Symantec Mail Security for Microsoft Exchange complements other layers of protection by preventing the spread of email born threats and enforcing data loss prevention policies.
New Features
Support for Microsoft Exchange 2013 and Microsoft Hosted Exchange environments
Out-of-the-box content filtering templates for protection against data loss
Improved anti-malware and anti-spam effectiveness through advanced heuristics
Continuous protection with lightweight scanning
Key Features
Superior Protection
This Microsoft Exchange security solution protects against various forms of malware such as viruses, mass-mailer worms, Trojan horses, spyware, phishing, and denial of service attacks
Stops 99 percent of spam with less than 1 in 1 million false positives
Filters email content with pre-defined policies, regular expressions, attachment criteria and True File typing
Flexible and Easy to Use Management
Initial setup of Microsoft email security software can be completed within 10 minutes, with no requirements for tuning, allow listing, or block listing
Management console provides centralized server group policy configuration, notifications, alerts, and reporting
Integration with Microsoft Operations Manager and Systems Center Operations Manager creates an email security software solution that enables end-to-end monitoring of your IT environment
Key Benefits
Optimized for Exchange
Flexible real-time, scheduled, and manual scanning provides efficient protection
In-memory scanning and effective multi-threading provides superior performance
Edge and Hub focused scanning leverages AV Stamping to eliminate redundant scanning and minimize impact to Mail Store
Supports 64 bit Windows, VMware and Hyper-V Virtualized environments
Hardware Firewalls
SonicWall
ECS have been a DELL SonicWALL Channel partner for a number of years due to their committed efforts to improving the productivity, performance and productivity of all sizes of businesses by taking the cost and complexity out of running a secure network. Whatever your organisation size or sector Dell Sonicwall have a product which will not only make your network more secure but could increase your productivity and system uptime.
DELL SonicWALL is a recognised global leader in the small and medium business markets and its solutions are deployed in distributed enterprise environments, government, retail point-of-sale and healthcare segments as well as through service providers
Dell SonicWALL's award-winning solutions include network security, secure remote access, content security, policy and management technology.
The SonicWALL® TZ Series offers a revolutionary breakthrough with higher performance protection, new redundancy capabilities, comprehensive Anti-Spam integration, application intelligence and control, and other innovations to protect and improve the efficiency of distributed enterprises and small-to-medium-sized businesses (SMBs). Available in standard and wireless configurations, the TZ 100, TZ 200 and TZ 210 Unified Threat Management (UTM) firewall appliances keep you ahead of increasing bandwidth requirements, emerging security threats and rapid expansion of Web application use enabled by Web 2.0 advancements.
---
Higher performance protection.
The ultra-performing security processor architecture, honed in the SonicWALL Network Security Appliance (NSA) Series, has increased the TZ Series performance up to five-fold.* Utilizing SonicWALL Reassembly-Free Deep Packet Inspection™ technology, the TZ Series boosts throughput and real-time inspection to provide greater performance than the competition at the same price point.
---
Flexible remote and wireless access.
To protect every access point to your network, the TZ Series offers Clean VPN™, combining UTM with IPSec and SSL VPN technologies. It also provides Clean Wireless, combining UTM with high-speed 802.11n wireless to encrypt the traffic while also ensuring the integrity of all traffic passing through. In addition, the TZ Series offers an option for 3G** wireless WAN and analog modem connectivity for use as the primary or failover connection.
---
SonicWALL TotalSecure.™
Every TZ Series appliance is also available as a SonicWALL TotalSecure solution, a convenient and affordable solution that combines the hardware and all the services needed for comprehensive network protection from a wide range of network threats—including viruses, spyware, worms, Trojans, keyloggers and more.
---
Breakthrough simplicity.
The TZ Series is an easy-to-understand and easy-to-use firewall solution, built upon the industry's most advanced object-based management operating system—SonicOS. Thanks to this easy-to-use interface, you do not have to choose between ease of use and power. Now, distributed enterprises and SMBs can experience enterprise-class high-performance protection at a lower total cost of ownership.
---
*UTM/Gateway/AV/Anti-Spyware/IPS throughput measured using industry standard Spirent WebAvalanche HTTP performance test and Ixia test tools. Testing done with multiple flows through multiple port pairs. **Available on the TZ 210 appliance only.
SonicWALL® TZ 210
The flagship of the TZ Series, integrates Unified Threat Management, Application Intelligence and Control, SSL VPN remote access capabilities with optional 802.11n wireless. The TZ 210 enables small businesses and branch offices to use USB ports supporting 3G and analog failover along with multiple Ethernet WAN failover for greater redundancy and reliability.
SonicWALL® TZ 200
Integrates Unified Threat Management with critical business continuity features to provide a powerful branch office and small business security platform. The TZ 200 provides critical failover capabilities for optimal uptime, with support through USB 3G and analog modem failover as well as multi WAN failover. Sophisticated anti-spam capabilities further add to the protection provided by Unified Threat Management (UTM) services, delivering a powerful and efficient security solution to distributed enterprises, small- to medium-sized businesses (SMBs), retail locations and managed service providers.
SonicWALL® TZ 100
The entry point of the TZ Series, the SonicWALL® TZ 100 Series makes high performance Unified Threat Management (UTM) available and affordable for everyone. Combining a powerful Unified Threat Management feature set with state-of-the-art high-speed architecture and five configurable 10/100 interfaces, the TZ 100 delivers uncompromising protection for small- to medium-sized businesses (SMBs).
| | |
| --- | --- |
| Document name | Dell SonicWALL TZ Series |
| Description | By integrating gateway anti-virus, anti-spyware, intrusion prevention, content filtering, anti-spam and application control, the Dell SonicWALL TZ Series of Unified Threat Management (UTM) Firewalls shatters these limitations by offering high performance multi-layered network protection. Dell SonicWALL Application Intelligence and Control helps administrators control and manage both business and non-business related applications to enable network and user productivity. Utilizing SonicWALL's unique Reassembly-Free Deep Packet Inspection® (RFDPI) technology,* the TZ Series delivers in-depth protection at unparalleled performance. |
| Updated | Dec 11, 2012 |
| Size | PDF: 2.200MB |
Want to know more?
Contact our support team to discuss your requirements and arrange a free consultation.