Hosted Solutions
ADECS-Maple has a range of support solutions to suit every budget or business requirement, including remote support, server & desktop monitoring and both software & hardware solutions.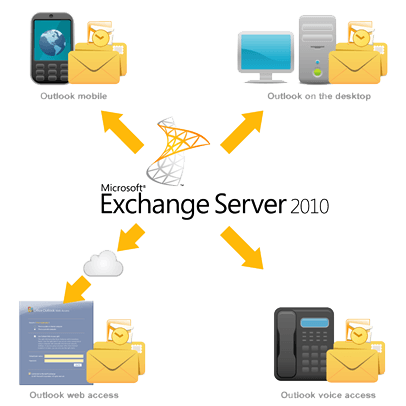 Stay Connected With Hosted Exchange
Full business collaboration and communication solutions are no longer the preserve of the multi-nationals. Powerful, feature packed, efficient and easy to use, Hosted Exchange means you have full access to your office even when you are away from your desk.
Hosted Exchange business Email solutions make it possible for you to work anywhere, at any time. Access all your Emails, contacts, schedules and more through your desktop, web browser, iPhone and Windows mobile completely synchronised in real time.
Email that fits your needs
Hold onto important email with 25GB storage for each user
Retrieve contacts from almost anywhere
Customize inbox rules and other notifications
Personalise and share
Share your calendar with others
Choose how you want to view email and calendars
Easy-to-use administrative control
Set up new user accounts and email groups in seconds
Restore deleted accounts within 30 days
Use PowerShell for creating custom scripts and automated processes
Look professional
Have a domain name? Use it with your email accounts
Design and send high-quality email using images and custom formatting
Anywhere access*
Access the latest email and calendars from your PC, Mac, web browser, Windows Phone, iPhone, Android phone, Symbian phone, and BlackBerry
Lost your phone? You can wipe data from your device to prevent unauthorized access
Security
Microsoft blocks spam and manages the servers in the cloud
Block external sources from sending email to internal distribution groups
Your email is free from advertising
*Access from mobile devices requires Wi-Fi capability or depends on carrier network availability.
Have you looked at business grade remote backup solutions and found them to be more expensive than you thought?  Maybe you have some fears over keeping your valuable information backed up on servers away from your physical control?  Many remote solutions are either aimed at the home user or small office and therefore do not integrate into a business grade system such as Microsoft Exchange, or they are so heavily priced as to put them out of reach of the SME user.
ADECS-Maple remote backup solution has been specifically modelled with the SME in mind and offers a rich feature set and the very high levels of security and reliability that an enterprise would demand but at a price a small business would expect.  As an example, a Microsoft Small Business Server with 20GB of data would cost just £25 per month.  To download a pdf with our simple pricing structure please click here or contact us for further information.
One of the great things about our Remote Backup Solution is that unlike some other solutions available, ours can scale to meet your growing data requirements from 10GB up to 50TB+. This means that as your business data grows you can increase your backup storage capacity at any time, and you don't have to pay for the extra capacity until you need it
Key Features:
Offsite data protection for your files – automatic, scheduled file-based backup and recovery
Web-based access to your data – access and recover your files via your browser
Excellent data encryption – 448 bit military strength encryption ensures your data's privacy and protection
Incremental backups to reduce time and bandwidth – after the initial backup, our backup software only backs up the changes since the last backup saving time and internet bandwidth. The service knows it already has a stored copy of the unchanged files and does not need to back up those files over the internet again
Adjustable settings for network bandwidth – optimize your performance by setting the amount of network bandwidth you want to allocate to your online backup service
Recover files from multiple points in time – you can access and restore files from multiple points in time (depending on your revision settings). If you have files that change a lot, this gives you multiple versions to access. If a file is corrupted, go back to a point where the file is not corrupted and download that one
Protect multiple servers and computers/laptops with one account – many companies have multiple servers and computers that they want backed up on a regular basis
"Set & forget" scheduling policy – once you select the files and folders to be backed up as well as the frequency of backup the backup software does the rest. No further action is required, no having to change tapes. It's simple!
Easy to Manage:
Single click selection for common backups: Email, Documents, etc – entire folders selectable with one click!
Intuitive browser based user interface makes backups & restores easy
Remote backups, means in the event of a disaster your valuble data is secure
Every possible scheduling option included – including Continuous Data Protection
Automatically detect changes in files and/or directories and backs up accordingly
Powerful reporting that encompasses configurable email reporting for Client and Server
Our Backup Software is compatible with the following Operating Systems:
Windows® 7 / Vista / XP / 2000
Windows Server 2008/2003/2000, Windows SBS 2008/2003 & Windows EBS 2008
Mac OS X 10.3.x (Panther) and 10.4.x (Tiger) for PowerPcs
Mac OS X 10.5.x (Leopard), 10.6.x (Snow Leopard) and 10.7 (Lion) for Intel PCs
RedHat Linux 8.0 and later, RedHat Enterprise Linux, Fedora core 3 and later
CentOS 4.2 and later, SuSE Linux 9.x and later
Mandrake Linux 10.0 and later
Debian Linux 4.0 and later
Gentoo and Ubuntu 5.10 and later
Solaris (For Solaris10 – Intel)
FreeBSD 6 and later
High Performance:
Can be used as a single comprehensive solution for desktops, laptops & servers. Server backups include SQL Backup, Exchange Server Backup, Active Directory/System State Backup, and MySQL Backup in Windows & Linux
Intelli-Delta technology for Incremental backups. Backs up only changes in files and not the entire file every time
Powerful data compression based on the ZLIB algorithm
Support for large file backups including 'continue where you left off' feature
Robust data encryption with up to 448 bit Military strength protection – based on the blowfish algorithm
Support for Volume Shadow Copy for backing up Open Files
Support for backing up multiple versions of the same file with time stamps for easy restores. Our online backup service also supports additional full backups
VOIP Telephony Service
Our fully hosted PBX system is a fully featured telephone system that uses VoIP technology to redirect telephone calls over the internet.
Our experience in the Internet access market and our interconnects with other ISP's in the UK give us the ideal platform on which to build our system. We work closely with multiple carriers to ensure that we have the highest quality call routes available at the best prices at all times.
Our system is built on Asterisk, the most powerful and highly developed telecommunications software available. By harnessing the power of Asterisk and working with a global network of developers we have built the most comprehensive and robust IP telephone system available.
Our fully hosted PBX service has the following features:
Call Queue Reports and Statistics
Want to know more?
Contact our support team to discuss your requirements and arrange a free consultation.